Packaged Product of 1 Saree and 2 Blouses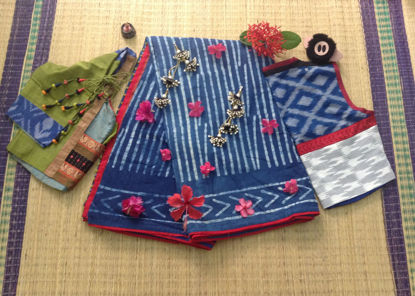 Saree : Indigo handwoven saree chettinad Red stripe and yellow stripe pallu with potli button edging all over saree chilli red thin piping. Hedgeful blouse : Mangalgiri mercerised green cotton well blended with blue Ikkat fabric. Tassels at the back carries the brown hand woven border elegantly. Blue ikkat and grey blouse : Blue ikkat and Grey ikkat hand woven cotton, front black linen with potly button edging.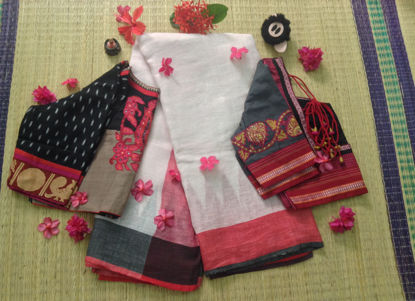 Saree: Linen saree fused with grey ikkat hand woven pallu with small potli button edging. Capers blouse: The rich colors of Khun fabric have remained traditionally versatile for gorgeous blouses. This Red khun has grey sleeves dressed with rich colors of applique works. The deep neck at the back has a support of colorful tassels giving it a a touch of style. Black & shades of Grey: Black & Grey hand-loom fabric with applique/ cut work at the back.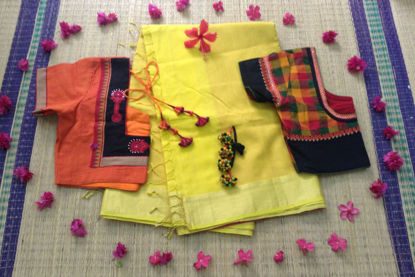 Saree : Yellow maheshwari silk cotton. Orange and pink chettinad pinstripe pallu. Madras checks blouse : design is what design does and this well known Madras checks in reds, green and yellow weaves a colorful story. The piece resonates with tiny mirror works and a mango border. Palum Pazhamum checks is the home spun name of Madras checks. Lovely Orange: Orange and red pinstripe hand woven fabric with Embroidery, Multi colour Boondi Tassel at the back.